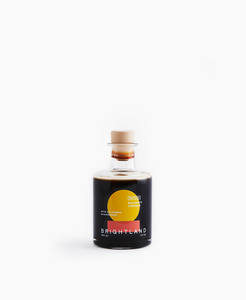 RAPTURE is a raw balsamic vinegar that is double fermented with California zinfandel grapes and ripe Triple Crown blackberries. RAPTURE is lovingly crafted on a nutrient-dense, family-run farm on California's Central Coast. Enjoy with salads, marinades, mozzarella and tomato, crusty bread, BBQ, peaches, and summer fruit. Pair it with Brightland's AWAKE, ARDOR, and ALIVE. RAPTURE comes in a 200 mL recyclable glass bottle.
Ingredients: Vinegar (diluted with water to 5% acidity), Organic Cane Sugar, Triple Crown Blackberries.
The company is committed to sustainability and social consciousness. The organic grapes used for the vinegar are grown in Northern California, and both varieties are double-fermented and distilled on a family farm on the Central Coast.