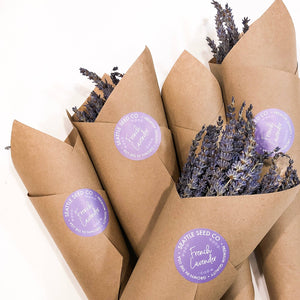 Fragrant, freshly harvested dried lavender bunches. All grown in the Northwest. -Bundles of approximately 100-150 stems (~3oz) -Long stems, between 16"-20"
-Fragrant French Grosso lavender. -Tied and wrapped in kraft paper. 
Disclaimer: Dried lavender bunches are fragile. We are not responsible for lavender flowers falling apart if this product is shipped. We do our best to package properly, however we cannot guarantee that product will not be damaged during shipping.