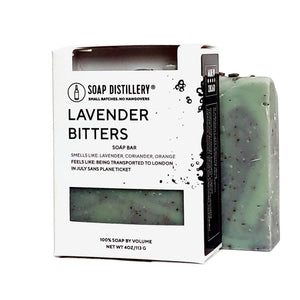 Soap Distillery's Lavender Bitters Soap. For all those looking for lavender, this is for you! Deliciously aromatic, lavender buds not only smell good but also has calming effects. This soap is no different. Fragrant and relaxing, this will turn your shower into a day at the spa. Floral with a hint of spice and citrus, it's well balanced. Perfect for anyone who loves the scent of fresh flowers and cut ginger.
Contains ground lavender buds for mild exfoliation. Naturally fragranced.
Ingredients: saponified oils (coconut, olive, sunflower) essential oil blend, lavender buds, oxides, rosemary leaf extract.
Made in Chicago, Illinois. USA.