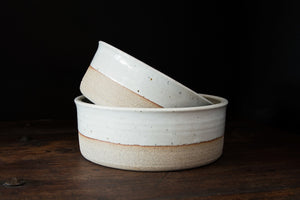 Hanselmann Pottery's nesting pair of large bowls. Heavy, durable ceramic will stand up to everyday use.
Large approximately 9.5" wide by 3.75" tall; small 8" x 3.25"
Microwave, dishwasher, & oven safe.
Hand thrown, hand-glazed. Expect slight variations in dimensions and color.
Made in New Mexico. Made in the USA.
Available in-store only