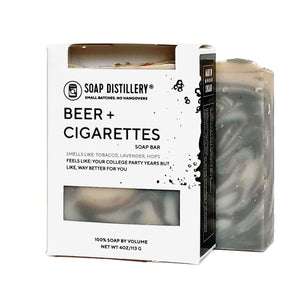 Soap Distillery's most popular scent! Tobacco leaves, lavender buds, and oakmoss dance on a base of PBR. It is amazing. Double dog dare you to try it.
Ingredients: saponified oils (coconut, olive, sunflower) lager beer, essential oil, and phthalate-free fragrance oil blend, hops flowers, black clay, oxides, rosemary leaf extract.
Phthalate-free. Vegan - 4 oz bar 
Soap bar contains gluten
Made in Chicago, Illinois. USA.